Dealer Specialties® Enhances Service For Dealers With Complimentary SiriusXM Radio Trial Activations - Dealer Specialties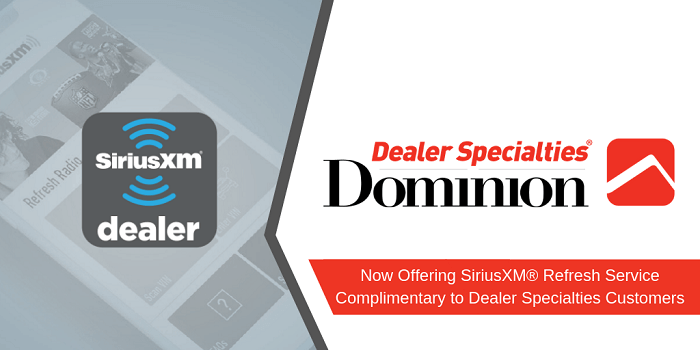 Dealer Specialties® Enhances Service For Dealers With Complimentary SiriusXM Radio Trial Activations
FOR IMMEDIATE RELEASE
January 22, 2019
Norfolk, Va. – Dominion Dealer Solutions has announced that Dealer Specialties is working closely with SiriusXM to streamline the activation process for SiriusXM radio trials on pre-owned vehicles at the point of sale.
Dealer Specialties lot services package makes it easy for dealers to ensure that their customers can enjoy the benefit of SiriusXM on equipped vehicles during tests drives and by seamlessly starting their three-month trial subscription to SiriusXM's All Access package the moment they drive their vehicle off the lot.
"Dealers tell us SiriusXM is a huge value add to their customers and we are committed to streamlining the process to make it easy for dealers to ensure SiriusXM's unparalleled audio entertainment offering is front and center for their customers," said Shane Marcum, vice president of inventory services and solutions for Dominion Dealer Specialties. "Our reps are already out there on the lots taking photos and videos of the vehicle, and including this step in our current process is simple for us to do and free for our dealer partners."
"SiriusXM's world-class content is an important feature for customers shopping for a new or used vehicle and an important benefit for dealers to offer during the sales process," said Gail Berger, vice president, Automotive Remarketing for SiriusXM. "We are pleased to help Dominion Dealer Specialties and the dealers they work with continue to deliver excellent customer service and seamless access to SiriusXM."
Dealer Specialties' complimentary SiriusXM Refresh Service is available to their dealer clients who are enrolled in the SiriusXM's popular Pre-Owned Program. The program, which now features the participation of more than 33,000 dealers across the country, enables them to give their customers a three-month trial subscription to SiriusXM All Access when they buy a SiriusXM-equipped vehicle, regardless of manufacturer. For more information on the SiriusXM Pre-Owned Program please visit www.siriusxmdealerprograms.com.
The All Access audio package is SiriusXM's most extensive offering and includes Howard Stern, a wide variety of commercial-free music, plus every NFL, MLB, NBA and NHL game, every NASCAR race, live college sports, plus talk programming, comedy and several exclusive online-only channels. An All Access subscription also gives listeners the ability to tune in to SiriusXM programming outside the vehicle on the SiriusXM app and on many connected devices in the home.
###
About Dealer Specialties
Dealer Specialties, a division of Dominion Dealer Solutions, is the nation's leading provider of vehicle data collection, image generation, window labeling services and inventory management and marketing. Providing both on-the-lot services and in-house solutions, Dealer Specialties' has the industry's largest Internet distribution channel with more than 1,600 partners including GetAuto.com, Cars.com, eBay Motors, Overstock.com, Google Base, AutoTrader.com, The Cobalt Group, Manheim and more.
About Dominion Dealer Solutions
Dominion Dealer Solutions improves dealers lives by developing advanced technologies including: reputation and social media management, responsive websites, digital advertising, SEO, SEM, multi-channel marketing, and custom market reports. Coupled with award-winning lead management, inventory merchandising, equity mining, customer relationship (CRM) and dealer management (DMS) solutions, Dominion redefines automotive retail by delivering first-class customer experiences for today's automotive dealerships. Based in Norfolk, Virginia, every OEM and more than 10,000 U.S. dealers depend on Dominion's foundation of innovation, integrity, excellence and teamwork to provide them with results at every turn. For more information, visit our website, like us on Facebook, LinkedIn or Youtube, or follow us on Twitter.
About SiriusXM
Sirius XM Holdings Inc. (NASDAQ: SIRI) is the world's largest radio company measured by revenue and has approximately 34 million subscribers. SiriusXM creates and offers commercial-free music; premier sports talk and live events; comedy; news; exclusive talk and entertainment, and a wide-range of Latin music, sports and talk programming. SiriusXM is available in vehicles from every major car company and on smartphones and other connected devices as well as online at siriusxm.com. SiriusXM radios and accessories are available from retailers nationwide and online at SiriusXM. SiriusXM also provides premium traffic, weather, data and information services for subscribers through SiriusXM Traffic™, SiriusXM Travel Link, NavTraffic®, NavWeather™. SiriusXM delivers weather, data and information services to aircraft and boats through SiriusXM Aviation™ and SiriusXM Marine™. In addition, SiriusXM Music for Business provides commercial-free music to a variety of businesses. SiriusXM holds a minority interest in SiriusXM Canada which has approximately 2.7 million subscribers. SiriusXM is also a leading provider of connected vehicles services, giving customers access to a suite of safety, security, and convenience services including automatic crash notification, stolen vehicle recovery assistance, enhanced roadside assistance and turn-by-turn navigation.
Media Contact:
Meagan Murray
Director of Media and Partner Relations
Dominion Dealer Solutions
meagan.murray@drivedominion.com