Product Spotlight: DealerSpin360 – Taking the Offline Walkaround Online - Dealer Specialties
Product Spotlight: DealerSpin360 – Taking the Offline Walkaround Online
The walkaround is an integral part of the dealership sales pitch. As the sales rep's opportunity to learn the customer's needs and pain points and to highlight all the vehicle's advantageous features, the walkaround is key in closing the sale. But, with shoppers spending more time online than in the showroom, dealerships need to provide potential customers a high level of service online and showcase vehicles there. If the customer finds a vehicle they like, then they'll come in for the walkaround and test drive with a sales rep, however, to get them in the door, the shopper must first have learned enough about the vehicle online to make it worth their while.
"Pics or it didn't happen."
If your listing is not competitively stocked with visuals and information needed for comparison shopping – it's like those features don't even exist. A vehicle may have the latest and greatest voice-activated navigation system but if the listing does not include details about that feature then, in the shopper's eyes, the vehicle does not have it. When comparing to a similar vehicle of the same price, it will fall short and be disregarded. Car shoppers are looking for quick information, so those high-value features need to be front and center.
With the plethora of vehicle listings online, how can yours stand out from the crowd and inform shoppers that your dealership has the car they are looking for?
DealerSpin360 makes it happen.
Dealer Specialties' newest release in innovative dealership inventory solutions treats customers to an online virtual walkaround experience. DealerSpin360 provides shoppers with access to a self-guided tour of the vehicle, presenting the information in an engaging and entertaining way.
Dealerships who display custom interactive walkarounds from Dealer Specialties have discovered invaluable benefits, including:
Time spent on VDPs by consumers doubled
Increased lead conversion rates
Increased reach and brand awareness
Like many of Dealer Specialties' solutions, DealerSpin360 is a hybrid of cutting-edge technology and high caliber service. Professional photographers come out to your dealership to photograph New and Used inventory at your request. This footage is then rendered into the walkaround widget with intuitive controls so consumers can virtually circle the vehicle as well as take a seat inside.
Both interior and exterior views allow shoppers to explore clickable feature descriptions. For example, if the car has a display screen mounted in the dashboard, the shopper can click a button in the widget to take a closer look. The close-up is not a blurry zoomed in image, but rather a high-quality photo accompanied by a text overlay listing the available dashboard features such as touch screen display, navigation system with voice, real time traffic information, rear-back up camera, etc.
It doesn't stop there.
After creating each custom walkaround, Dealer Specialties works with your dealership's web partners to publish them on your website, as well as leading vehicle shopping sites and social media platforms to increase brand awareness, traffic to site, time spent on site, and conversion rates.
DealerSpin360 also supplies real-time data-rich reports including such information as which vehicles are attracting the most views and which vehicle features are consuming the shoppers' interest. You'll also be able to have a look at which domains and cities generated the most views, how much time viewers are spending on the exterior vs the interior of the walkaround, along with what percentage clicked on specific parts of the vehicle (for example: door handle, bumper, engine). Your dealership's marketing team can then sync these consumer insights with their CRM in order to gain a better understanding of the customer's journey and optimize marketing efforts for higher conversion volumes.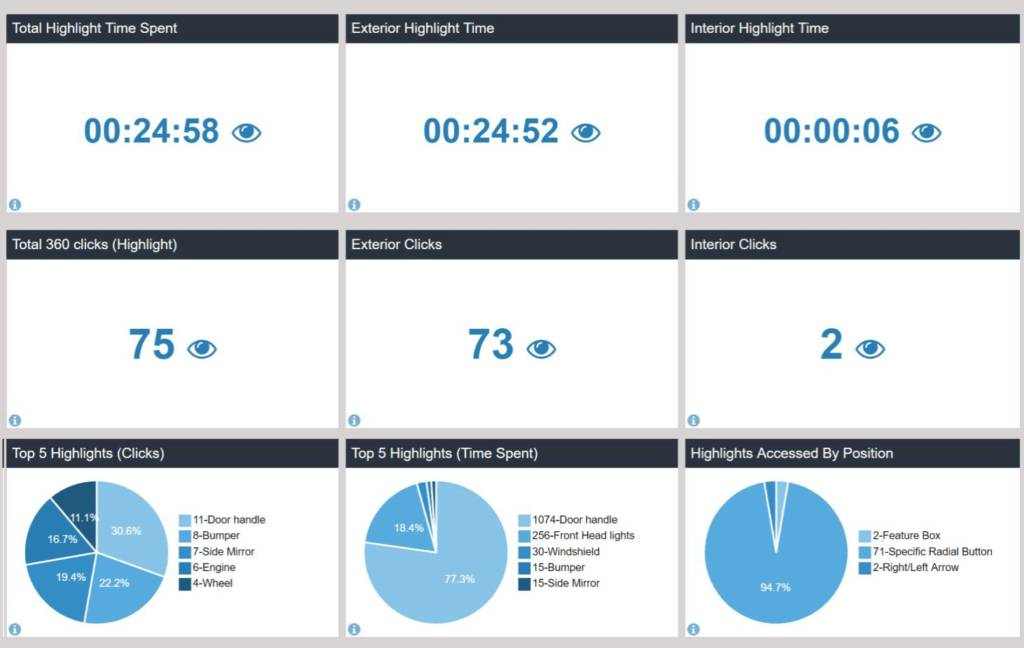 If you are already benefiting from LiveLot ® or are considering it, then you'll be pleased to know we created DealerSpin360 to function seamlessly with LiveLot ® with no additional software so dealerships can combine video, walkarounds, and photos together in one player.
Since the primary portion of car shopping is done online, dealers must meet shoppers online with competitive listings. DealerSpin360 takes the offline walkaround online, getting more shoppers in your dealership's doors. If you're ready to take your VDPs to the next level, contact Dealer Specialties today or schedule a demo.