How does an IMS Improve Your Dealership's Profit Margins?
It hasn't escaped your notice: in the highly competitive automotive industry, profit margins for dealerships are slim. New car dealers make an average net profit of only one to two percent on every new car that is sold, largely due to numerous inherent costs like staffing and maintaining expensive facilities.
But what if you could significantly streamline marketing costs and data entry?
Automotive Inventory Management Systems such as VinMotion®️ offer cutting-edge solutions that let you increase vehicle turnover, manage inventory efficiently, and optimize the buying process for the consumer. The end result: a significant improvement in your bottom line.
'Hiring' VinMotion®️ at your dealership will give your business that all-important edge over competitors. Adopting VinMotion®️ is like onboarding an entire team of employees who never have to sleep, and are always accurate.
Below we reveal how this prospective new hire can radically improve your profit margins — no coffee break needed.
Multitasking
A good employee is able to multitask and work tirelessly under pressure. VinMotion®️ integrates and automates as many tasks as possible, creating a smooth and streamlined experience for both you and your customers. This includes working with other premium inventory solutions to improve your inventory merchandising. Consider the following tools:
SmartListing manages listings on Craigslist.
StoryBuilder creates engaging stories based on vehicle-specific data.
Facebook Marketplace reaches buyers where they are shopping.
New car incentives
Custom rules
Mobile app
VinMotion's mobile inventory functionality also lets you upload DIY videos, photos, specs and pricing options of any of the vehicles currently in your lot, and quickly appraise new cars anywhere, anytime.
If your dealership manages multiple lots, your new hire will not be overwhelmed. As your dealership grows, with a larger inventory and more employees, there is more opportunity for human error. VinMotion®️ eliminates mistakes and makes it easier to manage inventory across multiple locations.
Increasing distribution
With VinMotion®️, you can display your inventory everywhere car shoppers are researching. With near real-time inventory vehicle data distribution, your dealership gains maximum exposure through popular sites such as:
Cars.com
Edmunds
TrueCar
AutoTrader
Facebook
Your inventory is displayed alongside enhanced merchandising tools such as photos, comprehensive vehicle history, and manufacturer incentives. Additional content such as independent reviews, walk-around videos, and links to informative blogs add perceived value as consumers research your vehicles.
Reducing waste
If a vehicle sits on your lot for too long, it becomes a loss for your dealership. An IMS helps you avoid being weighed down with a car that you can't sell. By accurately tracking what your dealership has been selling, VinMotion®️ helps predict which makes and models you should add to your inventory.
The most successful dealerships turn their inventory rapidly — at least once a month. Inventory Management Systems like VinMotion®️ keep track of how long each vehicle has been at the dealership, and alerts members of your team if a car appears to be stagnant.
VinMotion®️ can also manage "Call to Action" items for all vehicles, such as missing photos, specs, and pricing.
Closing sales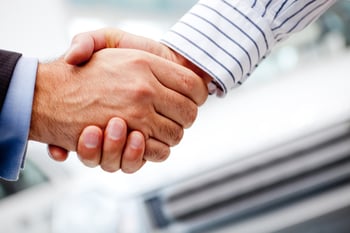 In today's increasingly digitized world, most car buyers are conducting thorough research online before purchasing a car. Of the time spent in the process of buying a car, 60% is allocated to online investigation. Consumers most frequently visit traditional OEM sites, third-party sites, independent review sites, and social media platforms. In fact, a study by JDPower & Associates shows that internet shoppers visit an average of ten separate automotive websites during their research.
All of this means that when a customer arrives at a dealership, they have usually already conducted exhaustive research — and are ready to buy. VinMotion's award-winning inventory management software will ensure that the make and model they've decided on is currently in your lot, with up-to-date vehicle history reports, specs, and pricing.
If negotiation is part of the closing sale at your dealership, VinMotion®️ can help ensure that your vehicles leave the lot at a competitive price. ®️ allows your employees to access profit-based appraisals and accurate price comparisons, so haggling never feels off-the-cuff.
VinMotion®️: the best hire you'll make this year
If you had the chance to bring on an employee who worked 24/7, multi-tasked like a machine, and never pilfered coffee creamer… let's be honest. You'd hire them in a second.
VinMotion®️ is that employee. This innovative inventory management system works tirelessly to keep your data up to date across countless online platforms, and helps you reach customers from the very beginning of their buying journey up through final price negotiations. It removes the guesswork when it comes to tracking value, manages multiple lots simultaneously, and eliminates the possibility of human error.
By increasing efficiency and reducing waste and unnecessary costs, VinMotion can help your dealership improve profit margins. And with less time spent worrying about facts and figures, your team can focus on nurturing new leads and building customer relationships — something only a human can do.
Sign up for a custom quote today, and make VinMotion your most profitable new hire of 2021.