Digital Vehicle Condition Reports: What Consumers Want & Dealerships Need
When the pandemic forced consumers to stay home, online shopping became more critical than ever. This was also true for consumer car shopping.
In 2019, Cox Automotive reported that over 61% of vehicle shopping time was spent online, with just under three hours spent at the dealership. It's important to ask why car buyers have embraced online shopping in order to answer, "how can we sell more cars?"
For that, we need to take a step back to look at the bigger picture.
Making the move to online car buying.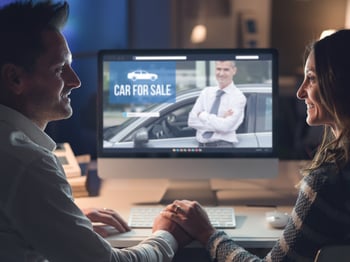 In 2016, Beepi Consumer Automotive Index reported that, "87% of Americans dislike something about car shopping at dealerships and 61% feel they're taken advantage of while there."
Let that sink in. Most people are dissatisfied and apprehensive of the dealership experience. Perhaps this is what has led to consumers indicating an interest in buying or selling a car from home, even without a test drive (V12).
Carvana, a fully online used car retailer, was the answer that many consumers were looking for. This innovative approach to car shopping cut out the visit to the dealership completely. The company was founded in 2012, and ramped up growth rapidly in 2019, adding an additional 52 markets to total 137.
The Motley Fool, a resource for stock investors, summarized the reason for their success well: "the entirely online experience lets customers avoid the notoriously unpleasant experience of traditional used car shopping. In today's economy, more consumers have come to expect seamless, easy, and instant buying experiences."
Consumers are skeptical
This feeling is pushing your potential customers to spend more time doing their own research. Vehicle history reports and VIN checks are popular among online car shoppers. Over the last five years, Google Trends showed a steady climb in searches for "vehicle inspections" and "VIN check," along with searches for "Carfax."
With the Internet in everyone's pocket, shoppers do their own research and have been warned time and time again about simply trusting the oh-so-popular vehicle history report. In September 2019, Edmunds.com told shoppers to keep in mind that no vehicle history report is perfect, and that a report is "only as good as the incidents that have been reported to the database." Nerdwallet also stated, "Computer experts sometimes say, 'Garbage in, garbage out.'
The same is true of vehicle history reports. With so many reporting sources — insurance agencies, vehicle registries, mechanics, etc. — mistakes occasionally occur, or important information is left out."
Many online sources, like those mentioned above, note that accuracy is hit-and-miss due to incomplete data. The providers of vehicle history reports, such as Carfax and Autocheck, aren't maliciously excluding data, but the reports rely on the information that has been reported to their sources and if previous vehicle owners or shady sellers have omitted reporting accidents and collision repairs, the damage doesn't appear on the reports. Therefore, vehicles can be over or under valued.
Vehicle history reports are not enough to keep shoppers from ditching the dealership, though. Searches for "Carvana" surpassed "Carfax" in February of 2019.
Inspections and vehicle condition reports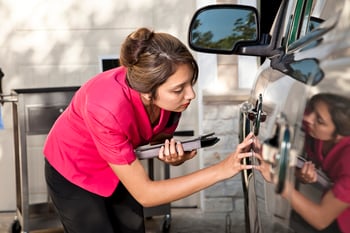 Encompassing more than a preview of the history, an inspection and vehicle condition report can pick up where VIN checks left off. They also inform the consumer on the actual state of the car, giving certainty on wear and tear, damage, or lack thereof, without the prospective buyer even seeing the car.
Edmund.com highly recommends that car buyers get a third-party pre-purchase inspection, yet found that most car shoppers don't for three main reasons:
Some consumers don't know that good used car inspections are readily available.

Many don't want to pay the extra money for an inspection.

Some anticipate a hassle getting a dealer or private party to agree to an inspection.
Obtaining third-party condition reports for vehicle shoppers could help gain their favor. However, making these reports available free of charge to shoppers as they browse listings online or visit your website would be an even greater service to consumers and to your dealership. It allows shoppers to find all the information they need about a vehicle online while giving them a unique experience and building their trust with your business.
C.A.R.Score: the perfect solution
For dealerships and car shoppers alike, a
C.A.R.Score
report can further assess the interior and exterior condition of a vehicle. The report includes vehicle grade, interactive hotspots, and damage photos.
But what's the benefit for you and the consumer?
As a third-party inspection, consumers trust the accuracy of the reported condition.

C.A.R.Score reports are highly detailed, noting even faint smoke odors. Consumers have reported that if something so minor is reported they trust that the dealership is not omitting data just to get a sale.

The condition reports are posted online where consumers can easily find them while comparison shopping. This saves both shoppers and dealerships time and resources because shoppers will be ready to buy when they contact you.

The reports are a value-add to shoppers that many dealerships are not offering.

The C.A.R.Score system allows you to put your best foot forward online and on the lot. The dealership reviews all reports before they are posted online and if you don't like the score, you make the repairs and we'll come back to reinspect it for a higher score.




There's no time like now
More than half (68%) of those planning to buy a car this year are leaning towards buying a used vehicle. While the pandemic may sway those numbers for the remainder of the year, dealerships should be looking for ways to quickly pivot and move to online processes to keep their shoppers engaged and safe.
C.A.R.Score's vehicle condition reports can help you secure consumer loyalty and online sales during this time of uncertainty and far beyond that when the dust settles.