Join Dealer Specialties at NADA 2020! - Dealer Specialties
Join Dealer Specialties at NADA 2020!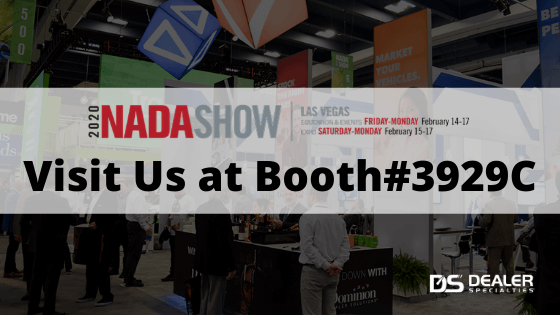 Another year, another NADA… but a NEW decade! Each year NADA brings new ideas and new products to the automotive industry with the goal of assisting dealers achieve efficiencies and success. Dealer Specialties is proud to be among those advancements in inventory management and merchandising for car dealers, and this year we've taken it a step further by identifying a need for consumers and providing dealerships an opportunity to fill this gap with their car shoppers.
C.A.R.Score is a consumer-friendly, interactive vehicle condition report built to build trust and transparency within the car buying process. With nearly 50 checkpoints and photographs, C.A.R.Score gives a detailed look at the current condition of a used vehicle. Reports are generated immediately and sent to dealers for review before being distributed to the dealership website.
69% of consumers said they would drive 30+ miles to a dealership with C.A.R.Score reports.
72% of consumers said they (definitely/probably) would pay a higher price for a vehicle with a C.A.R.Score report.
-Dealer Specialties Consumer Study, 2018
Consumers want it, and we want you to have it! We're offering $500 off of C.A.R.Score Reports for anyone completing a demo with us. But hurry, this is a limited time offer, so lock it in now before it's gone!
We look forward to seeing you there!