True Vehicle Condition Reporting - Dealer Specialties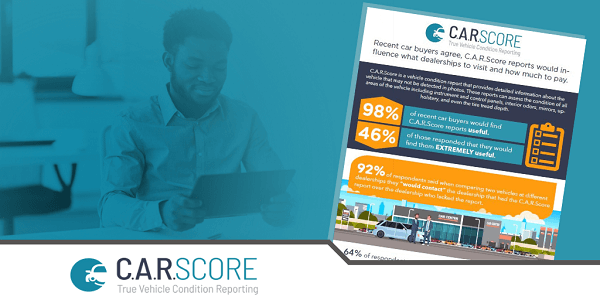 True Vehicle Condition Reporting
Dominion Dealer Specialties' recent release of C.A.R.Score takes condition reporting to the next level. True vehicle condition reporting goes beyond vehicle history and provides the details buyers want. This transparency helps your dealership gain trust, drive showroom traffic, and win sales. C.A.R.Score assesses the condition of all areas of the vehicle including instrument and control panels, interior odors, mirrors, upholstery, and even tire tread depth.
92% of respondents said when comparing two vehicles at different dealerships they "would contact" the dealership that had the C.A.R.Score report over the dealership who lacked the report.
Full-service reporting allows dealerships to erase a negative history report with a high score. Reports show shoppers the condition of vehicle features in ways they can understand. They can also provide detailed information addressing areas that a history report can't.

Recent car buyers agree that C.A.R.Score reports, by Dealer Specialties, would influence what dealerships to visit and how much to pay.
To learn more about true vehicle condition reporting, click here.