THE RISE OF CONSUMER CONDITION REPORTS AND HOW USED CAR DEALERSHIPS CAN BENEFIT
Expectations within the car shopping experience are continuously evolving, and the recent pandemic has escalated upcoming trends and consumer demands in the auto industry. One trend in particular is that of consumer-facing condition reports.
To first understand the value and need of consumer-facing condition reports, we need to understand the current state of retail. More than 10 years ago, ecommerce accounted for about 5% of total retail sales, according to Digital Commerce 360. Online sales now account for 21%, a huge jump from 16% in 2019. Consumers spent $861.12 billion online with U.S. merchants in 2020, up an incredible 44.0% year over year, according to Digital Commerce 360 estimates. That's the highest annual U.S. ecommerce growth in at least two decades. It's also nearly triple the 15.1% jump in 2019. Online sales accounted for 101% of all gains in retail in 2020. This means sales through all other channels—stores, catalogs and call centers—declined. This is the first time in history that ecommerce sales accounted for all retail sales gains.
Much of the online retail success comes from what is called The Amazon Effect. This is described as the disruption of conventional physical retail locations caused by the increase of online shopping. It's pretty simple. Amazon and other online retailers have given shoppers certain elements of value that traditional retailers cannot, like hassle avoidance, time savings, and reduction of stress and effort. And this is where the connection between retail and the automotive industry comes in.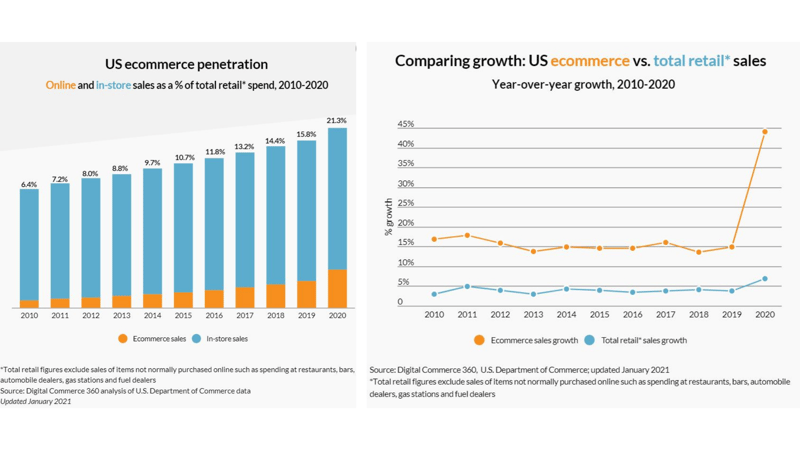 Similarly, we have non-traditional auto retailers providing the same Amazon values to car shoppers. For example, take a quick look at Carvana and Vroom. They are giving car shoppers a new way to shop and purchase vehicles by saving them time, avoiding the hassles of negotiations and financing, and making it a seamless experience. Car dealerships may not be ready to fully encompass an online process like Carvana and Vroom, and they don't have to. Traditional auto retailers can compete and offer these elements of value simply by introducing new online shopping experiences like that of consumer-facing condition reports.
Expectations Are Evolving
Car shoppers' expectations are changing, and used car dealerships have an amazing opportunity in front of them with consumer condition reports. Dealer Specialties surveyed 297 recent car buyers to get their input on these reports, and the overall response was more than expected. 70% stated they would be willing to drive further (30+ miles) to do business with a dealership who provided condition reports on their used vehicles. In addition, 93% stated they prefer to buy from a dealership with condition reports rather than a dealership without these reports, and 60% stated that they would be willing to pay more - negotiate less - for a vehicle with a positive condition report.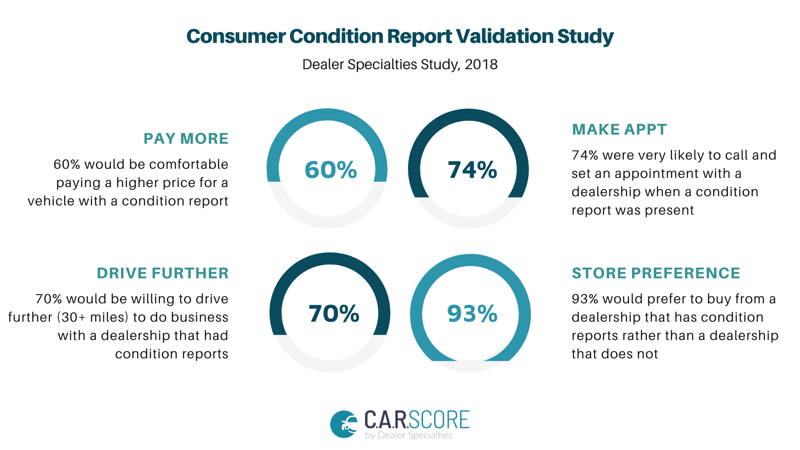 The Rise of Consumer Condition Reports
A second independent survey of recent car buyers conducted by Dealer Specialties in 2020 uncovered several reasons why consumer-facing condition reports should be part of a dealership's online presence. In this consumer survey, 276 qualified respondents answered eleven questions based on their perception of vehicle merchandising. The results, while not shocking, prove the importance of vehicle photos and the detail put into the images. Car shoppers already have a sense of untrust with car dealerships; therefore, providing more in depth images with detailed information as condition reports do, gives shoppers assurance.
Here are a few takeaways from this 2020 shopper survey:
Vehicle condition is extremely important to shoppers, and most expect used vehicles to be in 'Like New' condition.
The likelihood of purchasing a used vehicle without seeing it first isn't as unlikely as most may think. And seems to be a growing trend; i.e. Carvana and Vroom.
Half of the 18-24 demographic stated they'd be willing to purchase without seeing the vehicle first. As the fastest growing age group, this is a huge opportunity for car dealers.
"We all know that the internet is chock full of data yet buyers have a real paucity of attention. This is a challenge for sellers of any ilk, including automotive dealers," states national sales director, Shane Pierce. "How to resolve may sound simple, yet calls for some finesse and elegance. Dealer Specialties resolved this issue through an engaging, consumer-facing and controlled report on the condition of a vehicle. From tread depth, paint thickness, bumps and beauty spots. The reports give shoppers the data and the images they need to make a buying decision, thus becoming an intuitive selling tool for our dealer partners."
Seize The Moment
Condition reports are becoming a necessity in the used car industry as car shoppers become increasingly familiar with them and require this type of information when making a buying decision. Not only do dealers need to jump on this quickly to have the best advantage, but the return on investment is higher for those who start early. Several dealers utilizing C.A.R.Score by Dealer Specialties have expanded their sales reach within their local market within six months and increased website performance almost immediately.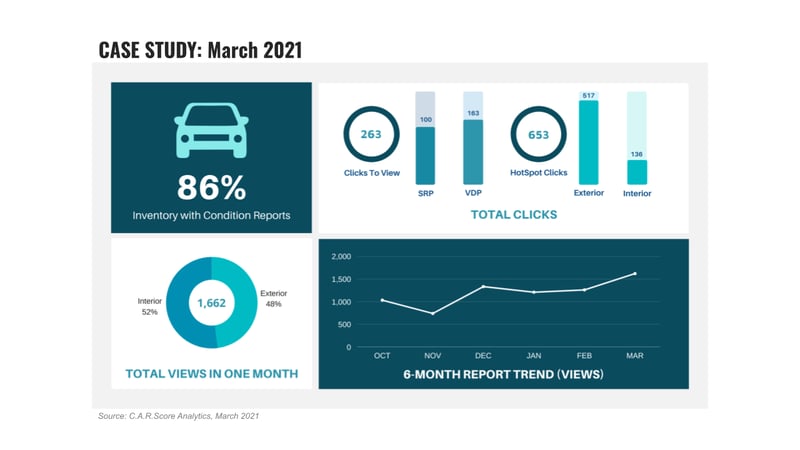 Consumers are always looking for that next new gadget, that shiny object they haven't seen before. Online condition reports, when done properly, can be the easiest new gadget within your digital retailing toolbox. Take advantage of becoming an early adopter and giving your shoppers a new feature they can interact with on your website, all while branding your dealership as a trusting seller and possibly growing market share and margins along the way.